http://marvelunlimited.forumotion.com/t809-jesteria-shotty-cause-lazy-lone-sucks
Item Name
: Miss Boomstick Bernellie M3
Item Rank
: C
Item Description
: Pump action shotgun with shorter barrels and no barrel choke.
Patent
: -
Item Image
:
Item Power
:
The Benelli M3 (Super 90) is a dual-mode (both pump-action and semi-automatic) shotgun designed and manufactured by Italian firearms manufacturer Benelli. The M3 holds a maximum of seven rounds and uses the proprietary Benelli semi-automatic system first showcased in the M1. The M3 is notable for allowing the user the choice of semi-automatic or pump-action operation. It is reliable and versatile, and popular with both police forces and civilian sportsmen. Pump-action operation is employed when shooting less powerful shells—such as rubber bullets—that do not generate enough recoil to operate the semi-automatic mechanism. Conversely, the semi-automatic mode can be employed with more powerful shells, absorbing some of the recoil. Switching between the two modes is done by manipulating the ring located at the front of the forend grip. The Benelli M3 also features a removable stock allowing the user to choose one of two styles, the traditional shotgun stock or a stock with a pistol grip. 7+1 round tubular maganize. Semi Automatic 12 guage 3" magnum loads.
Item Name
: Betty Chainsaw!
Item Rank
: C
Item Description
: cc: 38.2 weight: 10.4 lb. bar: 16 in. decibels: 103. Pink heart designs around the main base of the chainsaw. The blade is sparkling silver colored, and seems to radiate a bright light when activated. This light is controlled by a switch that can be turned on or off.
Patent
: -
Item Image
: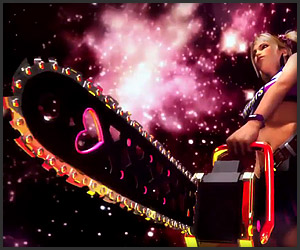 Item Power
:
This gas powered chainsaw has a metal saw that can grind through wood, concrete, stone, flesh, bone, etc. Pulling the handle once or twice is all it takes to bring this smooth operator to life. Its starter handle is large enough for a gloved hand. Overall, this is a reasonably fast saw with good vibration isolation at the handles. Comes with a strap that can keep it easily hoisted around the body. Once pressure is taken off the handle, the chainsaw stops automatically.
http://marvelunlimited.forumotion.com/t564-clown-mistress-of-chaos-skiiiillss-don-t-steal-w
Skill Name: Playing Possum
Skill Specialty: Physical Prowess//Witty
Skill Rank: C
Skill Description:
When one is with the Assassins they must also learn how to control their body completely. Jesteria can fall into a "death" state, where her body gives the illusion of no heart beat and no breathing. She actually appears like a dead body. She can hold this for more than 5 minutes (posts) before needing to take a deep breath.
Should be 40 prestige total
Jesteria = 056//207