Name: Captain America's Shield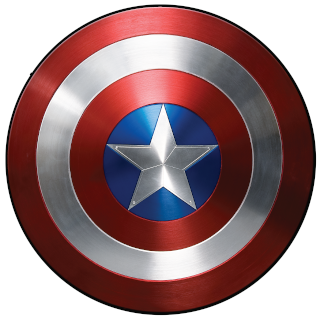 Rank: S+
Type Of Equipment: Shield
Elemental Alignment: Metal
Description:  A concavo-convex metal disc approximately 2.5 feet (0.76 m) in diameter, it is virtually indestructible and has remained his most constant shield over the decades. During one of his experiments to fuse vibranium with an experimental iron alloy, Dr. MacLain falls asleep and awakens to find the experiment a success. This is due to an unknown catalyst entering the process during his slumber, and he is unable to duplicate the result. The vibranium-iron alloy mix is then poured into a mold for a tank's upper hatch to create the disc shape and painted to become Captain America's symbol. MacLain would later attempt to recreate the shield's metal to no avail, his experiments instead eventually yielding the super-metal adamantium. Rogers' indestructible shield was long referred to, even in continuity, as being composed of an adamantium, vibranium, and uranium alloy. In actuality, the experimental iron alloy is now referred to as "proto-adamantium", which is slightly stronger than true adamantium. Dr. MacLain's experiments with proto-adamantium lead to the creation of true adamantium. This proto-adamantium (the only known source) was incorporated with the vibranium in the shield. The vibranium in the shield grants it unusual properties, allowing it to absorb virtually all of the kinetic impact from any blows that the shield receives without injuring Rogers in the process. The vibranium is also a factor in the way Rogers throws his shield: he often uses it to ricochet and strike multiple opponents or stationary objects with little loss of velocity in its forward movement after each impact.
Ability/Function:
-Damage to the shield or damage the shield is blocking is reduced by 3 Ranks.
-The Shield has an increased durability able to withstand 8 S-ranks worth of damage.
-Shield is able to reflect energy based attacks at a single person within the abilities range.
-Knockback effects are void are when hitting the shield.
-Can reduce damage from falls when using it to land to C-rank.
-Shield does S-rank damage when used as a weapon.